Using SSH to Connect to Classweb2

Download SSH
*** You must use a secure SSL connection to download this software. Please be sure to include the "BUS" domain name along with your username as in the following example ***
Download the SSH zip file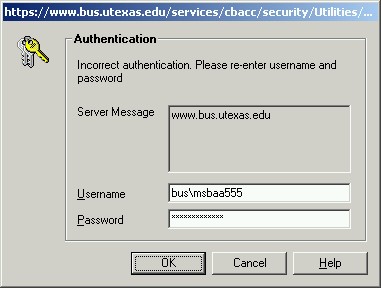 Install SSH
Unzip the file and extract the install exe to your machine.
Run the install program.

Launch and Connect to Classweb2
Click on the icon on your desktop that was created called "SSH Secure File Transfer Client". A window will appear like the one below.


Select the "Quick Connect" button to access the connection dialog box and type the following:

Host name: classweb2.bus.utexas.edu
User name: bus\[Your MSB/If id here]
Port Number: 22
Authentication method: Password

Should look like this:


Type in your Password:


Once connected you will be able to browse the classweb2 folder like below:



Uploading Files
Drag and Drop
To upload files click on the toolbar icon that looks like an arrow pointing up . It will open a window where you should find the document you want to upload to your personal folder. After you select a file, you may get a message saying that an error was encountered while transferring your file. If that happens, follow the following instructions:

Open up 'My Computer'
Click on 'Tools'
Click 'Folder Options'
Click 'View'
Make sure the following option: 'Hide Extensions for known file types' is unchecked.*
*Note: be sure to also click the button 'Apply to All Folders'
When you return to SSH it should allow you to transfer files.